Small island communities have often been pioneers for sustainability and climate action. Are they a snapshot of a greener future, or a distraction from bigger problems elsewhere?
Just off the north coast of Northern Ireland, in the chilly waters of the Atlantic, lies a tiny, L-shaped island called Rathlin. It is home to around 160 people. Mains electricity only arrived on Rathlin in the early 1990s, with the construction of three wind turbines. One islander enthused to local media about the benefits it would bring – she would no longer have to light a candle when getting up to feed her baby in the middle of the night.
This clean energy came from the almost ever-present wind that blows doggedly over Rathlin and on towards Ireland and Great Britain. But as Michael Cecil, chair of the Rathlin Development and Community Association explains, the turbines did not last. After about 10 years, they fell into disrepair. "We couldn't get parts, we couldn't get maintenance done on them," he recalls.
It meant returning to high-emissions diesel generators. And although Rathlin was finally connected to the main Northern Irish electricity grid in 2007, the islanders' dream of resurrecting wind power and cleaning up its energy supply is stronger than ever today.
There's a pride in the island, a pride in the indigenous population's resilience and how we cope with what nature throws at us – Michael Cecil
By 2030, Rathlin wants to be a carbon-neutral island, following in the footsteps of dozens of small islands around the world taking the fight against climate change into their own hands by embracing renewable energy, electric vehicles and sustainability.
To name a few, there's the Danish island of Samsø, which relies on wind energy and other renewables for power and heat. Or Tilos in Greece, which was the first island in the country to become energy self-sufficient. Or Jeju, the South Korean holiday island which, like Rathlin, aims to be carbon neutral by the end of the decade.
Some say these green islands or "eco-islands" are shining examples. They demonstrate the power of small communities and act as beacons lighting the way towards a world less dependent on fossil fuels.
But others argue that islands of a couple of hundred or a few thousand inhabitants are mere drops in the ocean when rapid, global change is required. Worse, these so-called good examples might end up distracting mainlanders from their own responsibilities regarding climate change. Are eco-islands just a waste of time?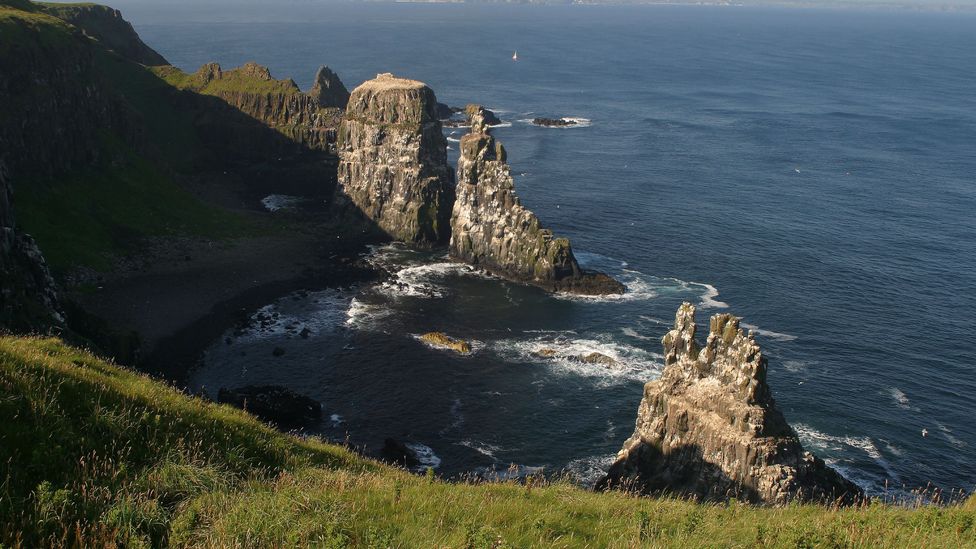 As in most corners of the world, the people of Rathlin are increasingly aware of the threats posed by climate change and biodiversity collapse.
"We see the storms increasing, we see the reduction in fish stocks, the reduction in bird life around the island," says Cecil.
But Rathlin's community, despite its size, is ready to take matters into its own hands. It's in the people's DNA, Cecil adds: "There's a pride in the island, a pride in the indigenous population's resilience and how we cope with what nature throws at us."
Currently, Cecil and his companions are fine-tuning their plan to install of a single wind turbine, probably one with a capacity of around 300 kilowatts – enough to power about 100 of the island's homes – and they have encouraged the adoption of low emission vehicles as well.
The islanders have acquired an electric car for community use and there'll soon be 20 e-bikes as well. David Quinney Mee, a community worker at the Rathlin Development and Community Association, notes that there is a solar panel system already on the island to help charge these vehicles.
Rathlin is famous for its seabird colonies and the locals are keen to make sure these animals are protected. A £4.5m ($6.1m) scheme announced last year aims to rid Rathlin of rats and ferrets, which prey on the birds.
But the thought of a wind turbine that also helps produce hydrogen from freshwater on Rathlin seems to particularly motivate Cecil, who previously worked for Northern Ireland's electricity network. That hydrogen, which could be produced when there is more wind energy than the islanders require, could be sold to nearby organisations seeking carbon-free fuel. Cecil, who also pilots a ferry that services the island, suggests hydrogen could be used to power such ships as well.
"We are going to reinvest that money into decarbonising homes and decarbonising transport," says Cecil.
This isn't just about plugging in a bit of green tech. It's about developing an ecosystem, if you will, of technologies to move Rathlin towards carbon neutrality in different ways – and, crucially, islanders will have a financial stake in it all.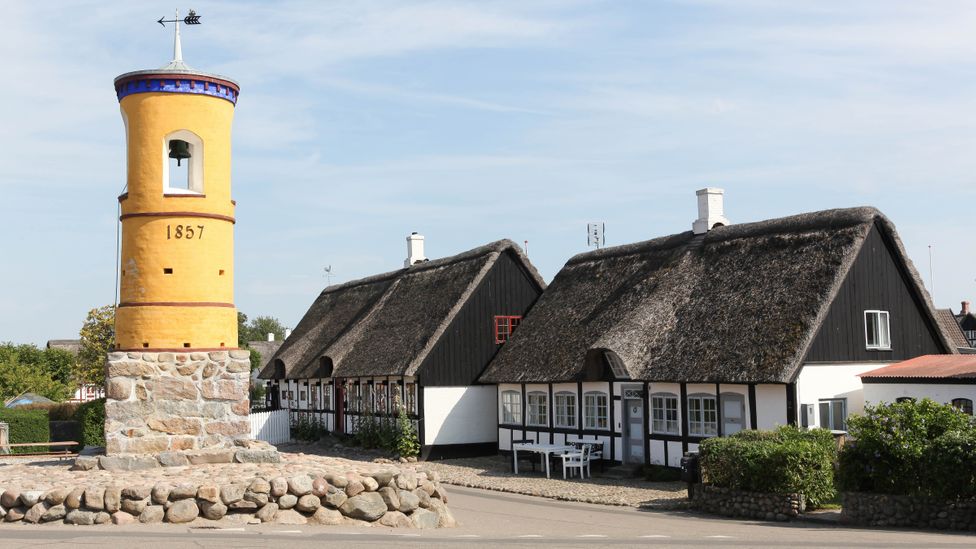 Small, isolated communities often prize their independence. This is evident in various eco-friendly island projects around the world. One of the best-known examples is Samsø in Denmark, which is home to around 4,000 people.
We didn't like the idea that somebody would exploit the wind that we were living with – Søren Hermansen
"We didn't like the idea that somebody would exploit the wind that we were living with," explains Søren Hermansen, chief executive of the Samsø Energy Academy. He describes how, by the year 2000, the islanders had banded together to raise money – partly through a bank loan – to pay for 11 wind turbines that they themselves would own. Now, Samsø sells surplus energy back to the Danish grid and the loan has been paid back "a long time ago".
Waste straw from farms on the island, another renewable resource, is also burned to provide heating for multiple villages. Hermansen has considered heat pumps as an alternative that might be even greener, though this would likely require more electricity purchased from the mainland, thus threatening the island's status as energy self-sufficient. Plus, leaving the straw to decompose rather than burning it could potentially lead to slightly higher greenhouse gas emissions.
Besides lowering carbon emissions, the island's various green projects are intended to provide local jobs and improve residents' quality of life. Hermansen argues this encourages people to migrate to Samsø, which could eventually begin to reverse years of population decline on the island: "It's healthier, there's more space and cleaner air." Data from Danish researchers shows Samsø's population could begin to increase in the coming decades thanks to a recent rise in immigration.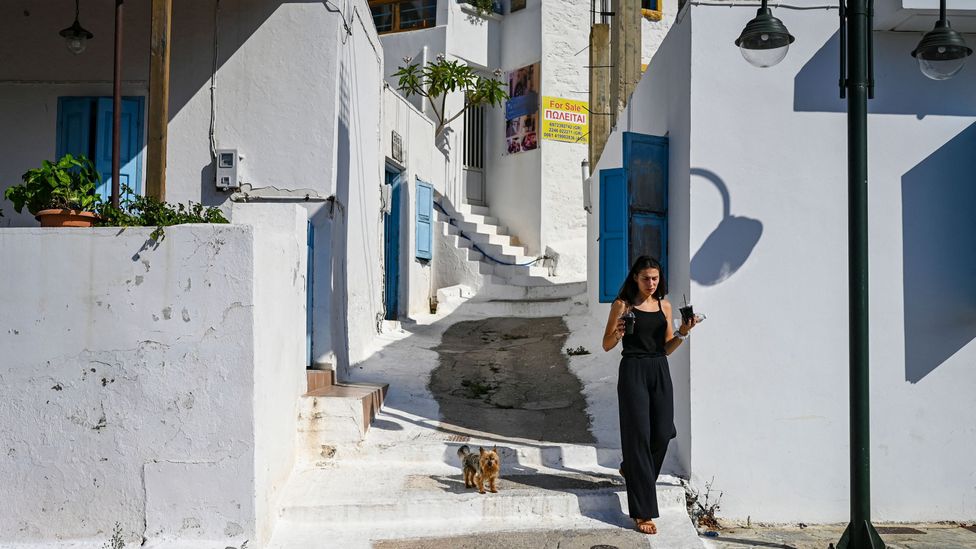 The pull of a perceived utopia is always strong and promoting clean energy on small islands is something of a grand project for the European Union. The Clean Energy for EU Islands Secretariat supports such initiatives and the European Commission spends billions of euros on renewable energy schemes on islands around the continent.
We want Tilos to be the beacon for other European islands, other Greek islands, to show them that if one small island like us can do all of that, then they can do it – Maria Kamma-Aliferi
Individual countries are also working to establish carbon neutral islands. The Scottish government, for instance, wants six of its islands to be fully carbon neutral by 2040.
But not everyone is convinced that putting all of this money and emphasis on tiny islands is a good idea. In 2017, Adam Grydehøj at South China University of Technology co-authored a paper which portrayed the rush to establish eco-islands as a "trap".
The paper argued that, while sometimes providing useful testing grounds for clean tech, eco-island initiatives may be little more than symbolic victories – conspicuous success stories that national governments take credit for while presiding over the status quo on the mainland. Plus, solutions that allow a tiny island to "go green" might not even be applicable elsewhere, such as high-density urban environments which need enormous energy resources by comparison.
"Small eco-islands may be role models, but they are not the kind of role models that the world needs most. Localised self-sufficiency does not necessarily contribute much to global sustainability," the authors wrote.
Grydehøj says that although he has no problem with islands doing things to benefit islanders, the emphasis on exceptionalism could actually backfire in the broader effort to tackle climate change. "Once you make climate change mitigation a competition where the only ones that get credit are the ones that do it first or do it best, that becomes a problem," he explains.
Those who lead eco-island projects are adamant, however, that setting a good example is a powerful thing to do.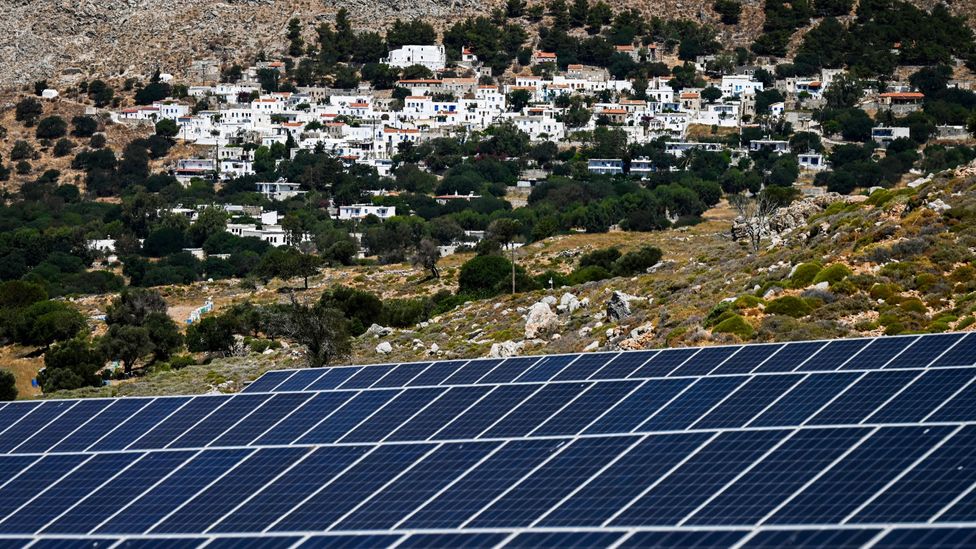 Maria Kamma-Aliferi is mayor of the Greek island of Tilos, home to around 500 people. Tilos became energy self-sufficient last year thanks to wind and solar power combined with batteries that can store energy when there is a surplus. Kamma-Aliferi and her colleagues intend to go further, with plans to establish an expansive recycling programme across the island to achieve "zero waste" status.
"We want Tilos to be the beacon for other European islands, other Greek islands, to show them that if one small island like us can do all of that, then they can do it," says Kamma-Aliferi, via an interpreter.
Meanwhile, Bornholm, a Danish island home to just under 40,000 people in the Baltic Sea between Denmark and Poland, hopes to become carbon neutral in just three years' time. A significant increase in wind energy generation could help the island towards this ambitious goal. The first stage of its wind expansion, which will provide two gigawatts (two billion Watts) has been approved and preparation has begun, says Bornholm's mayor Jacob Trøst. The aim is for this initial stage to provide power to three million homes.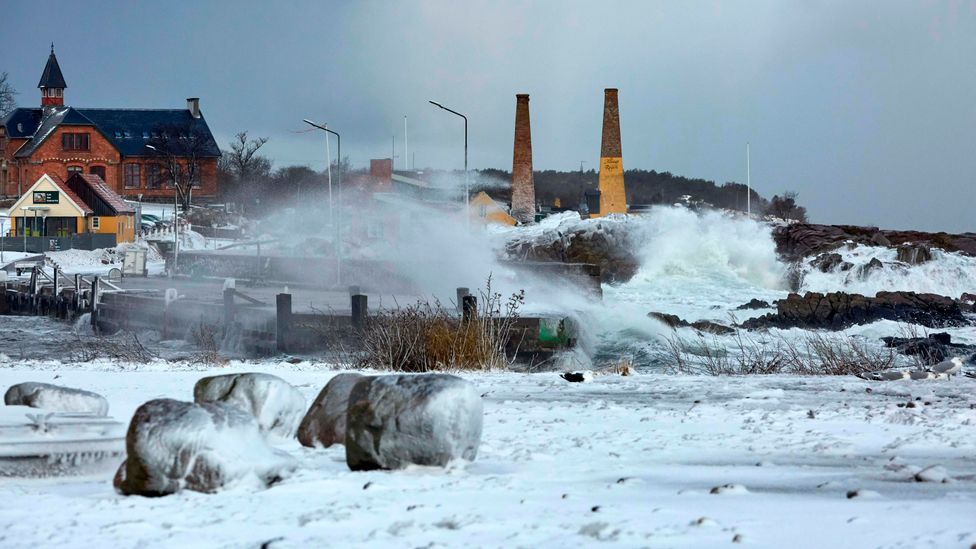 Scotland aims to take island leadership a step further, in a project to establish not one but six carbon neutral islands, a spokeswoman for the Scottish government says. The Scottish government sees it as an opportunity for island communities to "lead the way" in the country's broader journey towards net zero emissions.
"The Carbon Neutral Islands project is meant to benefit all Scottish islands and, where possible, shed light on carbon neutrality good practices that may be relevant also on the mainland, through knowledge exchange and sharing of good practices," she says.
Elin Slätmo, senior research fellow at the Nordic research centre Nordregio, and her colleagues have studied dozens of eco-islands in the Nordic region, finding various levels of success. The most effective initiatives, she notes, are those that involve the island communities directly in transitions towards renewable energy systems or other green schemes.
However, there is a lack of research on whether these relatively small projects are having a positive impact on wider society, she adds. Slätmo does point out that eco-island solutions don't even translate easily from one small island to another.
"We have to adapt it to the already in-place structure of societies," she says. Projects have to suit existing electricity networks, recycling and refuse infrastructure, transportation needs and so on. In other words, small, organised communities of many kinds might be able to take the push towards carbon neutrality or zero emissions into their own hands – but the same approach will not be possible everywhere.
For Hermansen, this is no great stumbling block. Size is not necessarily a barrier to achieving carbon neutrality – Japan is one country aiming to lead the way in that, he points out. Small islands are just the first forays, a bit like petri dishes where people can try out ideas for the future, he says.
And there are still opportunities for people who live on the mainland to take an island-inspired, hyperlocal approach towards carbon neutrality. "If you live in an apartment building, why not have solar panels on the roof? And electric chargers in the garage?" adds Hermansen.
As Trøst, mayor of Bornholm, puts it, what matters is that pioneers take a step forward, wherever they might live. "Someone needs to step up and take the lead in this," he says. "And it doesn't matter if it's Bornholm or the United States, as long as someone does it, it's showing the way to other people."
All of this raises an interesting, much bigger question: to what extent should the push towards lower emissions and a greener society be led by small groups of motivated people, on a case-by-case basis, versus national governments enacting sweeping policies?
In practice, successful projects often have an element of both. The Samsø islanders benefitted in their plan from a renewable energy subsidy that made their turbines more economically viable, for example.
Ultimately, the island mentality is both tantalising and, by definition, limited.
"Islands are different," admits Cecil. "They have a long history of being left out and being left behind and not being supported. They have to do things themselves."
We might not be able to transplant specific, island-based solutions to other places with ease – but perhaps that doesn't matter. Whatever the odds, the fighting spirit of Rathlin is what we really need.
As Cecil says, "It's up to every member of society to make an effort of some kind."
Source: https://www.bbc.com/future/article/20220131-the-worlds-tiny-islands-inspiring-green-action